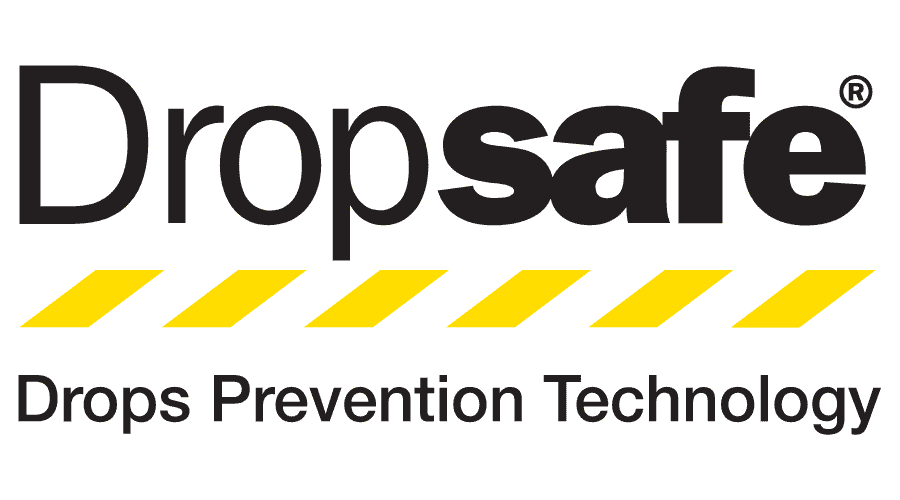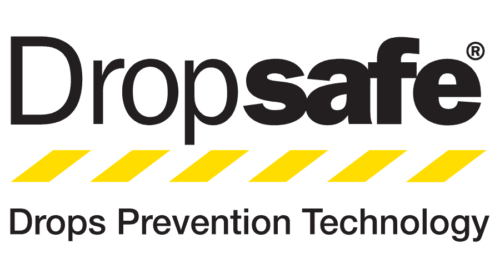 Dropsafe – Security Solutions
Dropsafe is the global leader in Dropped Object prevention. Dropsafe's technologies have been adopted worldwide by more than 300 leading businesses across sectors including Oil & Gas, Mining, Marine, Power Generation, Industrial and Offshore Wind Energy.
They are versatile and cost-effective solutions that companies need to mitigate the risks Dropped Objects pose to their people, equipment, finances and reputation. The Dropsafe's Dropped Object prevention solutions include: Dropsafe Barrier, Dropsafe Net, Dropsafe Helideck Net, Dropsafe Pouch, Dropsafe Barricade and Dropsafe Accessories.
.
Dropsafe Barrier
The Dropsafe Barrier is a modular barrier system, consisting of impact and heat-resistant panels, with small a honeycomb aperture. The versatile dropped object barrier solution attaches along the inside of the guardrailing of elevated walkways, stairways and access ways of permanent or temporary structures, using a universal attaching system. In doing so, the Dropsafe Barrier is a safe barrier solution that prevents loose items slipping through cracks and falling from height.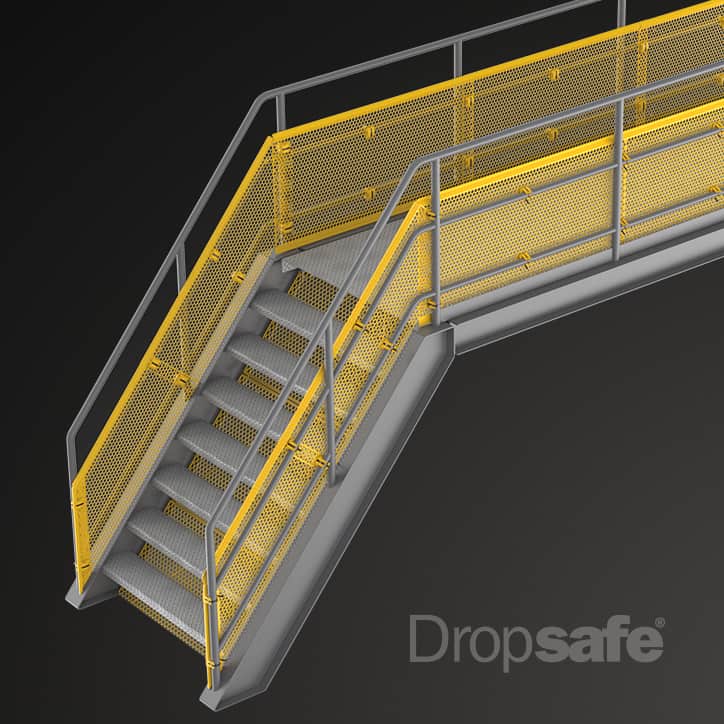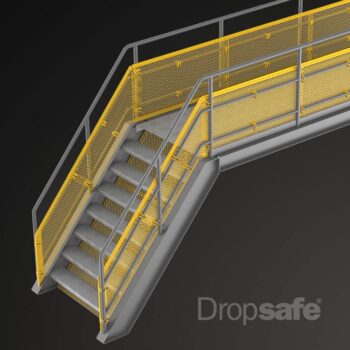 Installation types of barrier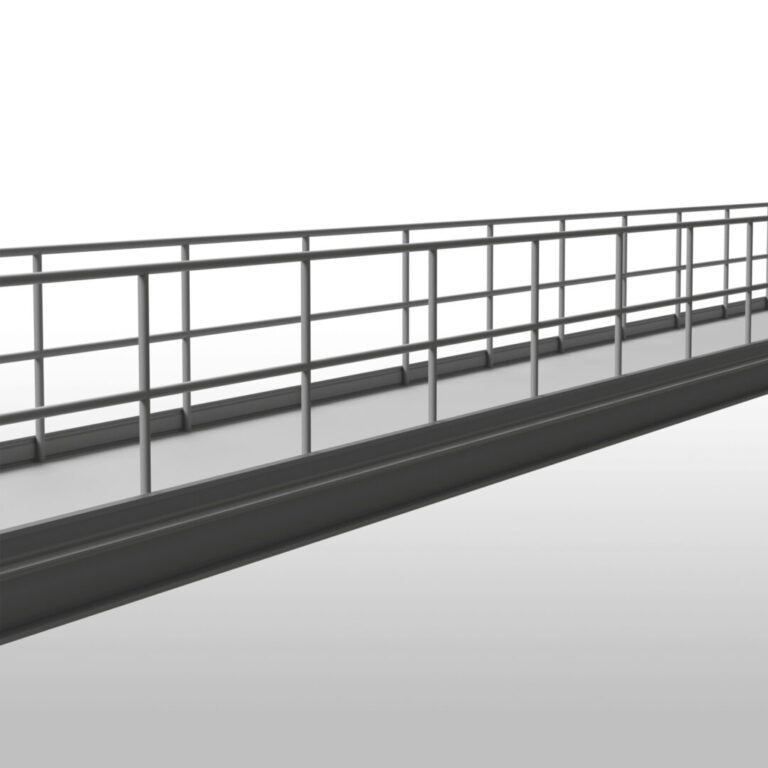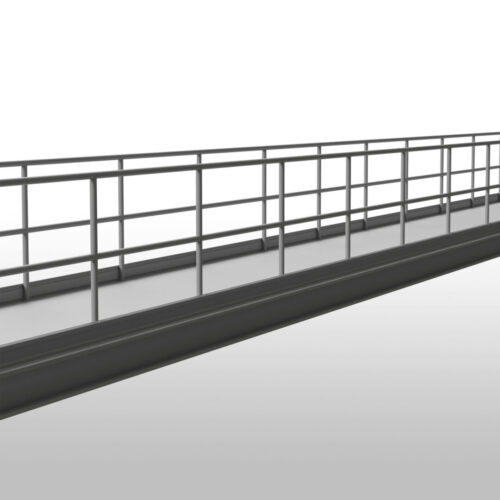 Dropsafe Net
The Dropsafe Nets are a range of stainless steel wire nets that enclose and tether overhead fixtures, such as lights, speakers, self-retracting lifelines, CCTV cameras, and pipe clamps. These fixtures are at risk of becoming dropped objects in industrial environments due to either corrosion, vibration, poor maintenance or impact from other equipment.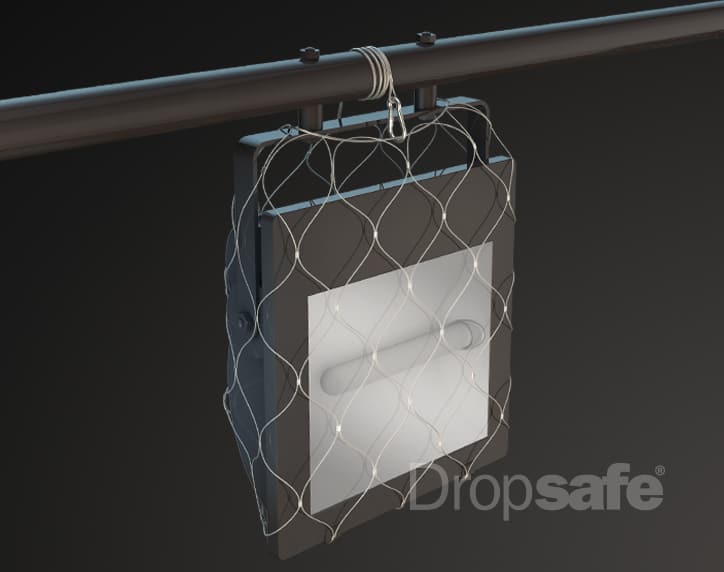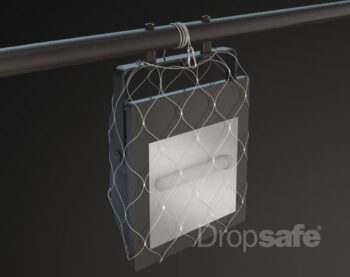 Enhanced Safety Features
The Trisafe™ Carabiner is a revolutionary design that significantly reduces human error and eliminates the shortcomings of traditional carabiners. Advancing best practice, the Trisafe™ triple action opening, auto locking mechanism is easy to use with one hand, making the Net installation safer, faster, and more intuitive.
The Dropsafe Choke Plate has been updated to include an in-built RFID chip for improved traceability, and a more efficient, simpler inspection. Choke plates are critical in ensuring the securing cable can be pulled tight, enabling the Net to fit snugly around the fixture.

The new Dropsafe Nets are tested and certified to over 5x the Safe Working Load. With more than 100 sizes and installation toggles to ensure an accurate fit, the Nets are all made from SUS 316 stainless steel. These features and the additional enhancements set a new safety standard for Drops prevention.
The New Dropsafe Nets with the Trisafe™ Carabiner are reccommended by both DROPS online and SfS as Drops Prevention best practice.
Installation types of net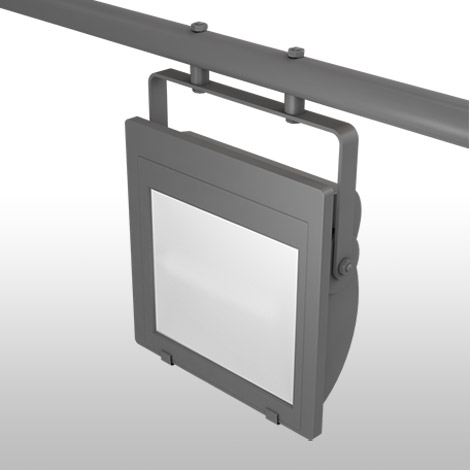 Dropsafe Helideck Perimeter Safety Net
The Dropsafe Perimeter Safety Net attaches to the existing outer frame of the helideck, preventing equipment and personnel from falling. Made from marine-grade stainless steel and with up to 25-year service life, the Dropsafe Perimeter Safety Net is suitable for helidecks in any environment.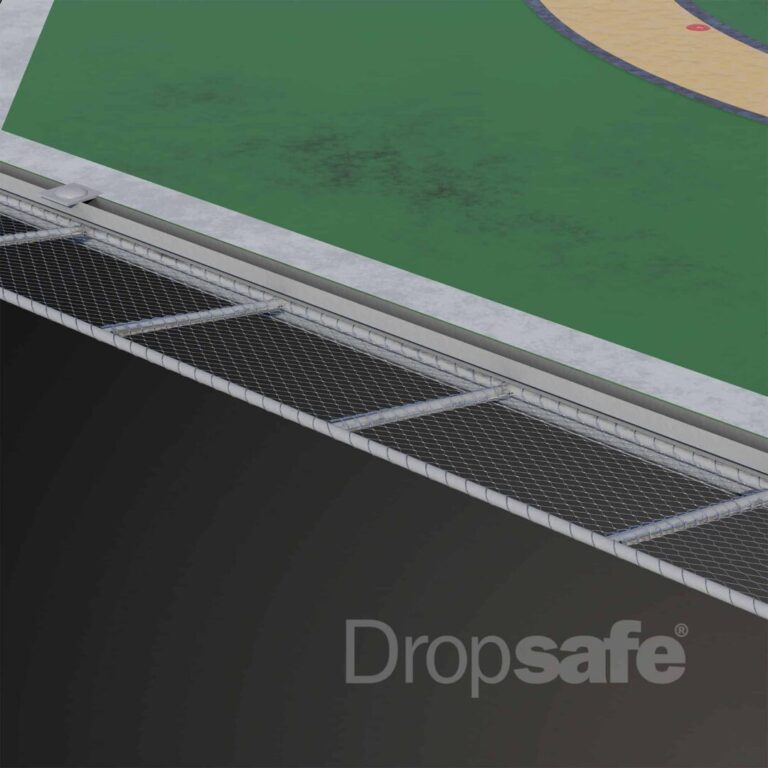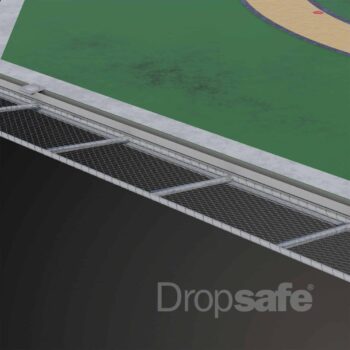 Installation types of helideck perimeter net
Oil & Gas Rigs, Drill Ships & FPSOs
Offshore Production & Accommodation Platforms
Seismic, Cable Laying & Support Vessels
Fire & Emergency Services / Search & Rescue
Dropsafe Pouch
When work is being undertaken at height, there is a risk of equipment such as two-way radios, portable gas detectors, aerosol spray cans, multimeters as well as other objects being dropped by technicians. The Dropsafe Pouch is a steel wire net that secures items to technicians' person when working at height. Fully enclosing and tethering the item to the user, the Dropsafe Pouch prevents items from becoming a dropped or falling object hazard.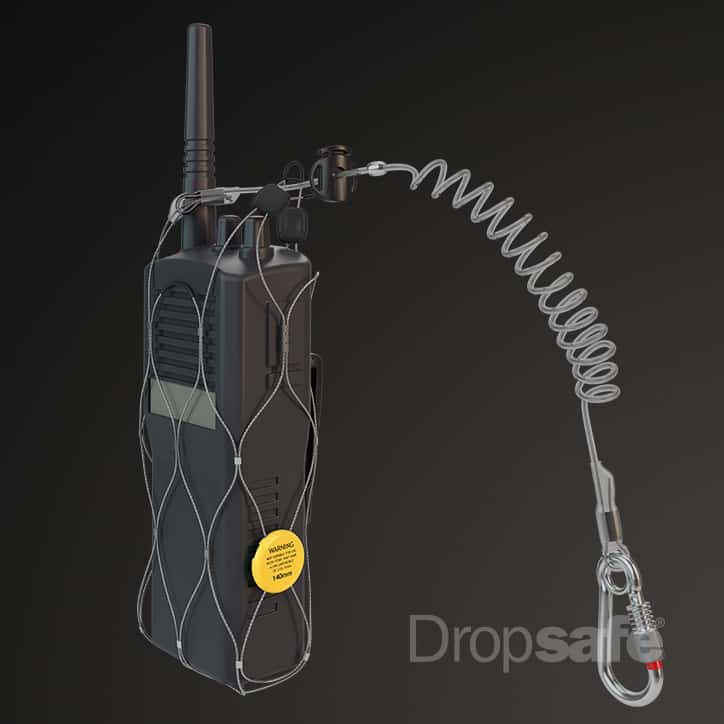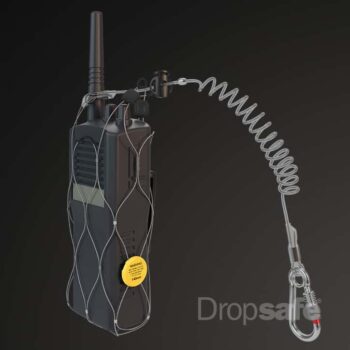 Application of pouch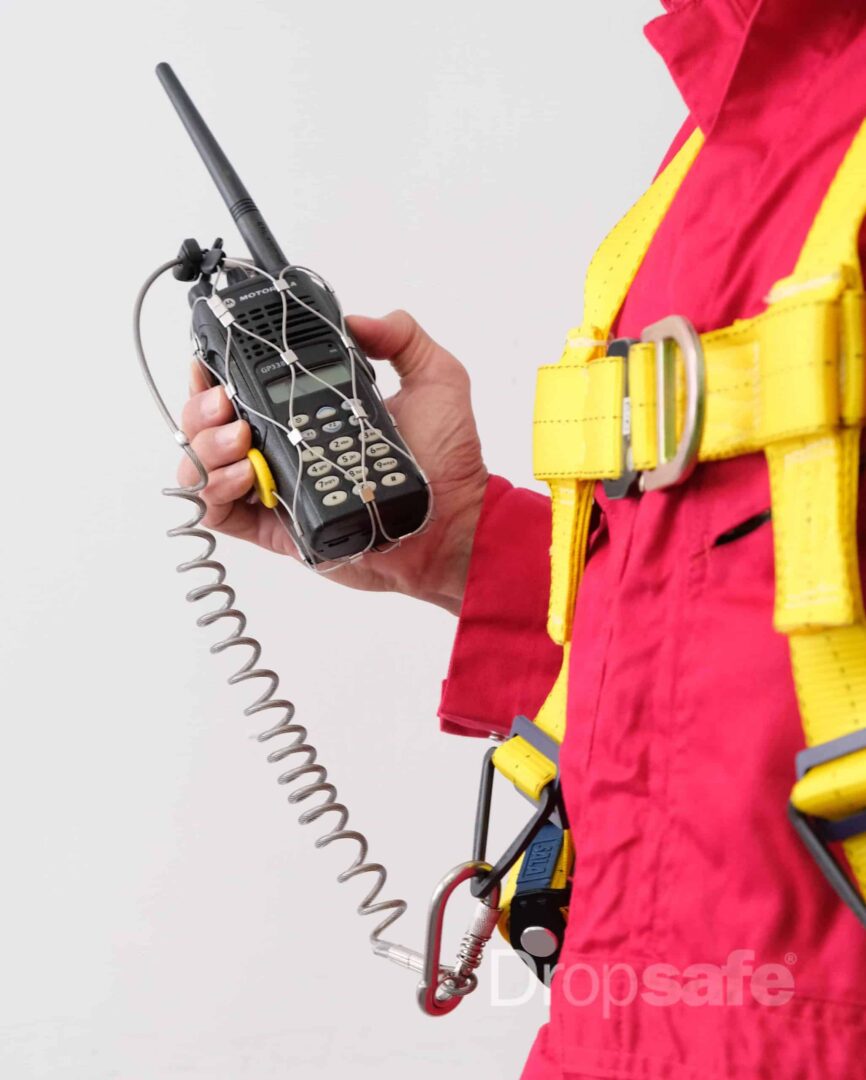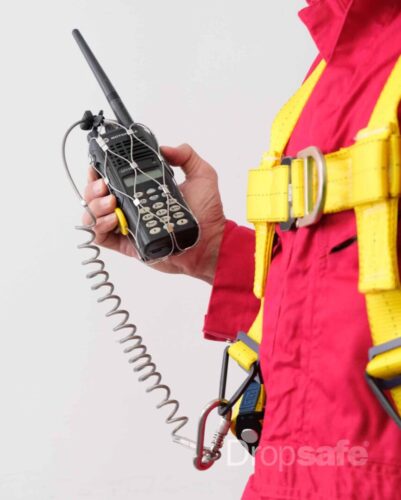 Dropsafe Barricade
The chain Barricade is designed to allow for modular use as lengths and sections can be fully customised making the system quick and easy to deploy. The flexible polymer chain allows the interconnected chain links to be easily detached and reattached by hand to suit the distance of the cordoned area with no excess chain or wastage.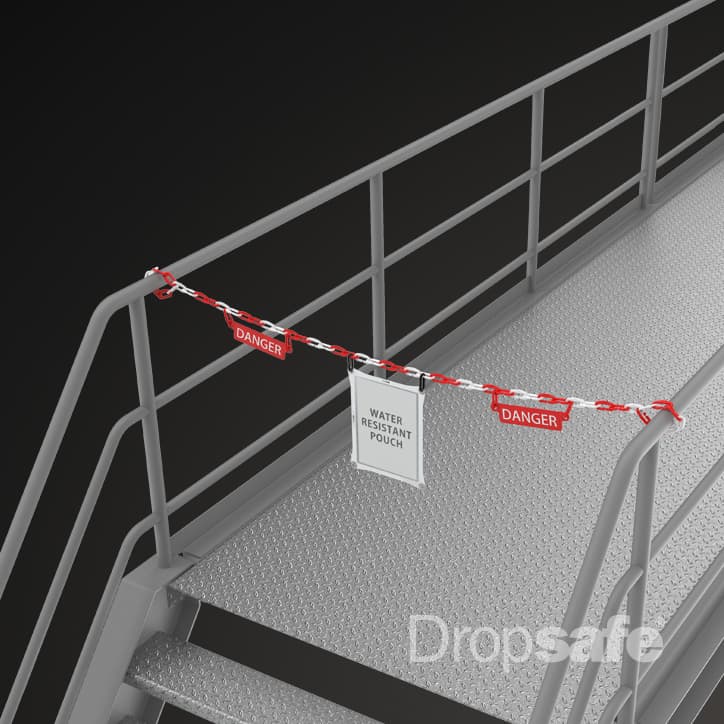 Installation types of barricade
Dropsafe Accessories – padlock, 4-part safety shackles, lanyyards, cables and carabiners
Dropsafe manufactures a variety of dropped and falling object prevention accessories to complement our core product range. All Dropsafe Accessories have been designed for use in harsh environments using the highest quality materials, whilst offering exceptional performance and durability. The range of Dropsafe Accessories includes the Dropsafe Padlock, 4-Part Safety Shackles, Lanyards, Securing Cables and Carabiners.