HI-FORCE HYDRAULIC TOOLS
Hi-Force has more than 30 years of experience in manufacturing of high pressure hydraulic maintenance tools, with over 2000 models of hydraulic cylinders, pumps, jacks, toughlift lifting systems, torque tools, bolt tensioners, hydrotest, extraction kits, crimpers and cutters and other products used worldwide by the industries of: Petrochemical, Mining, Oil and Gas, Civil, Power Generation, Steel and Aluminum, Aerospace, Defense, Heavy Engineering, Shipbuilding and Repair Industries, paper mills, sugar refineries and railways.
TECHNICAL ASSISTANCE AND REPAIR
The Hi-Force hydraulic tools satisfy the demands during construction, production, shutdown, as well as routine shutdown repair and maintenance (O&M and MRO) and are fully committed to manufacturing quality products using the finest machinery to ensure that their products meet the strictest possible quality requirements while also maintaining a competitive price in the global hydraulic tools market.
Polar, in addition to offering and distributing the wide stock of Hi-Force tools, is able to perform diagnostics, provide original spare parts, in addition to performing complete overhaul and maintenance on all Hi-Force tools, such as Cylinders and Hydraulic Jacks, Torque Wrenches and Tools, Crimping Pliers and Hydraulic Cutting Pliers.
All work is carried out to the manufacturer's standards, with original parts, to ensure that the tools are returned to their initial condition for safe use. A detailed repair report is provided with each tool, which guarantees reliability in the provision of services, supervised by Polar Engineering.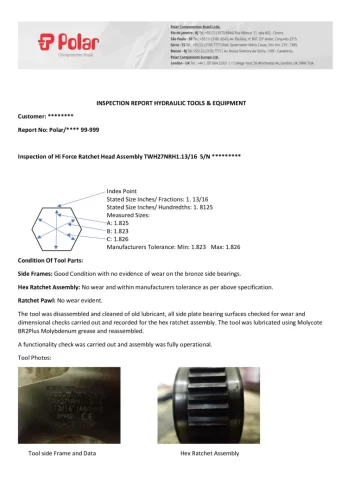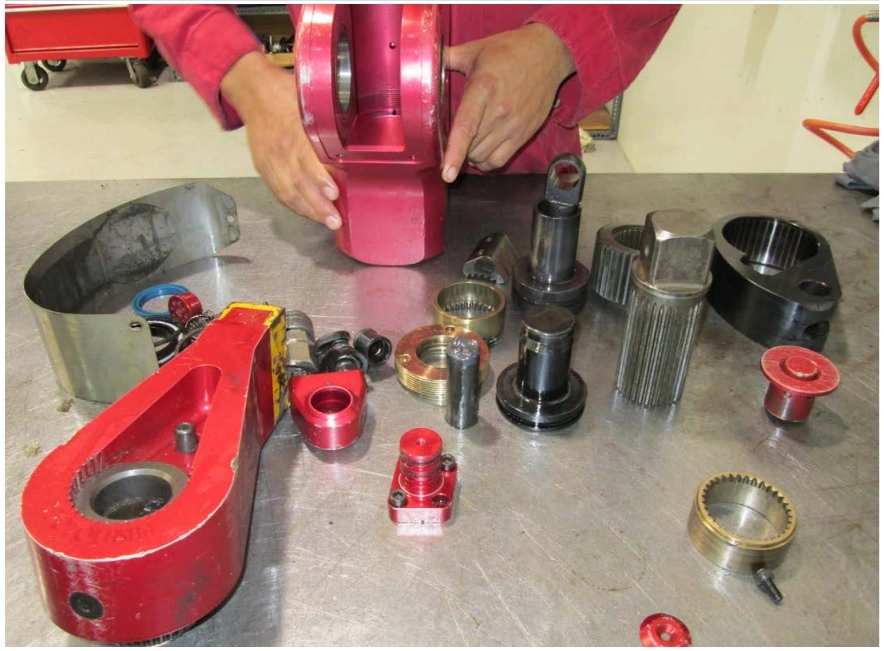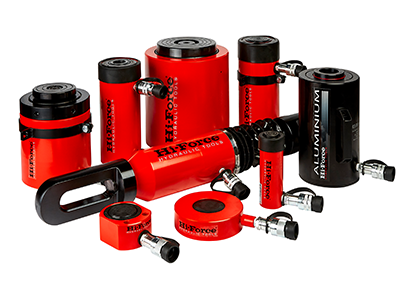 HYDRAULIC CYLINDERS
Hi-Force hydraulic cylinders have a wide choice of options related to capacity, stroke length, single or double acting operation, steel or aluminum construction, hollow piston center bore and mechanical fail-safe lock ring designs. All models have a maximum workingg pressure of 700 bar and capacities range from 4.5 tonnes to 1012 tonnes. There's a Hi-Force hydraulic cylinder to suit Every application, with high quality design and construction so They can handle the most demanding applications and the toughest working conditions. Hand and motor pumps suitable for use with Hi-Force cylinders can be found in the product catalog.
HYDRAULIC PUMPS
The Hi-Force range of manual and motorized hydraulic pumps comprises standard models, with additional factory installed options of electric solenoid valves and 60 Hz motors available to order. Manual, battery, electric, air and gasoline engine options, all suitable for use at pressures up at 700 bar. HPX hand pumps offer even greater outlet pressure options and are available in either one or two stage outlet flow rates. The wide range of models available guarantees the best Hi-Force pump for every application.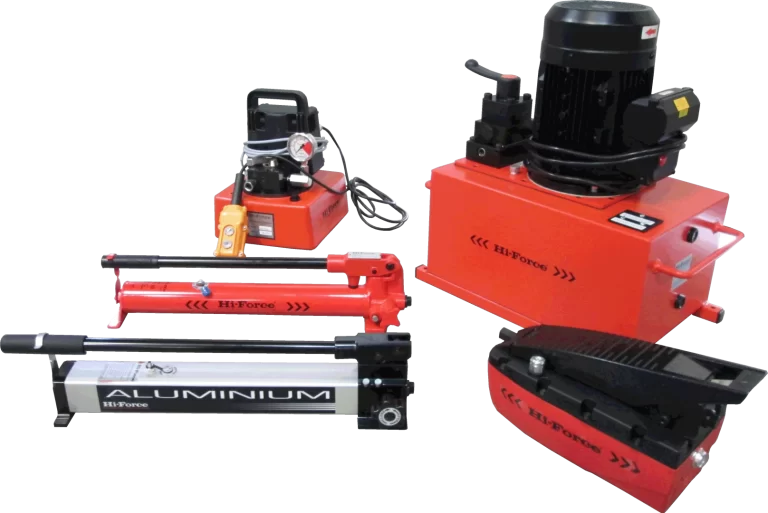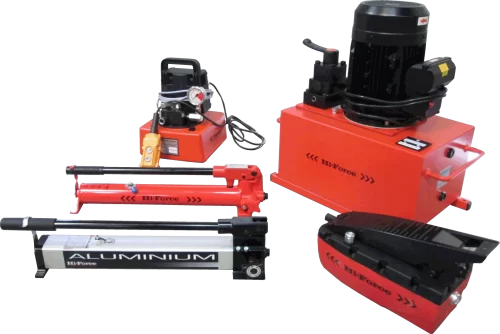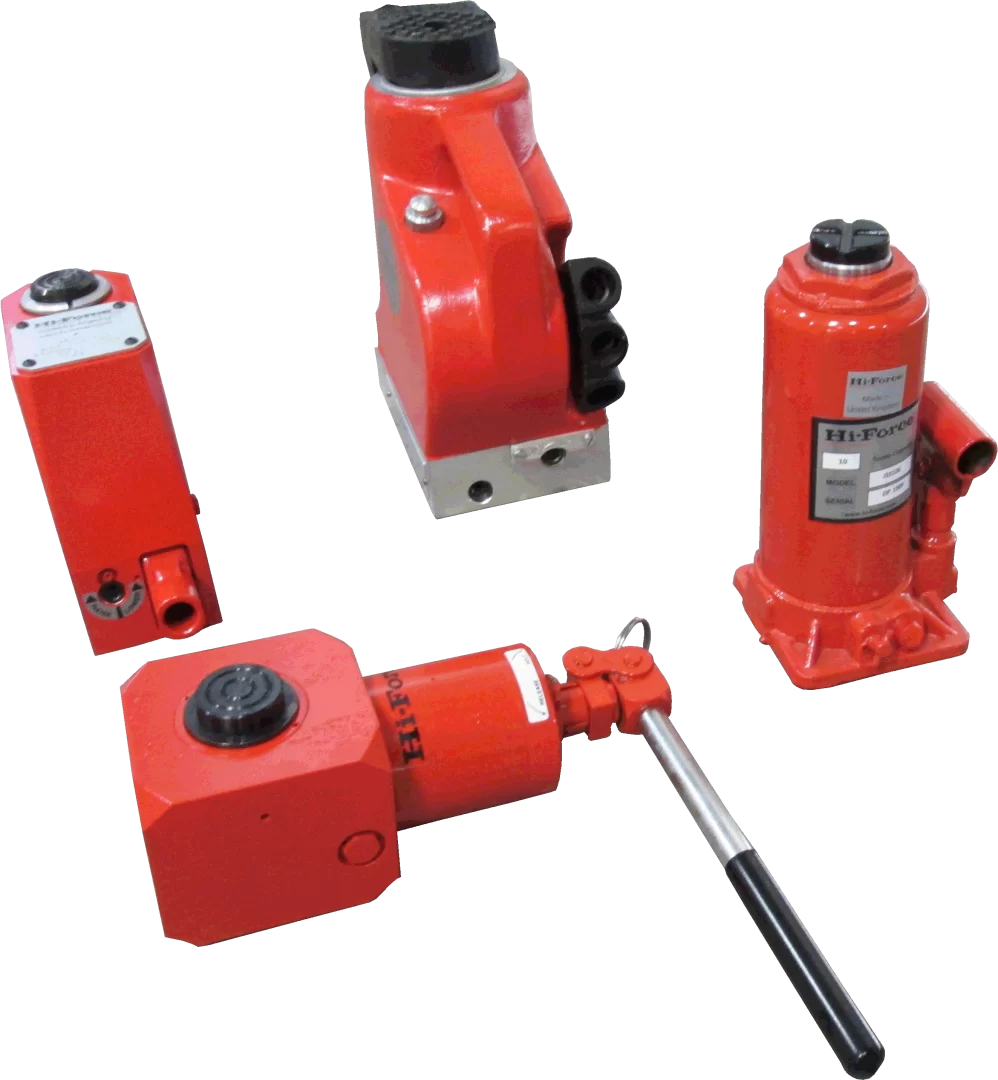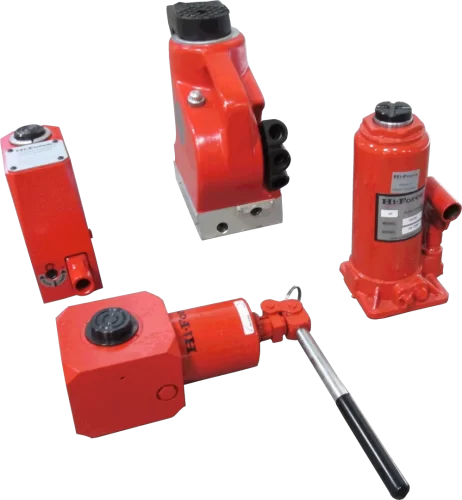 HYDRAULIC MONKEYS
Hi-Force's extensive inventory of hydraulic jacks offers a range of capabilities and features with many benefits. From the low-cost basic range, to the highest and most sophisticated, such as autonomous, aluminum jacks etc. Hydraulic jacks, in addition to being suitable for all possible applications, are all loaded with oil, ready for use.
TORQUE TOOLS
Hi-Force torque tools include hand, pneumatic and hydraulic tools, available in a wide range of precise and controlled torque output capacities. The range offers a variety of tooling options suitable for use in almost any tightening or loosening torque application. Hi-Force torque tools are recognized as a leading brand in the global bolting tools market.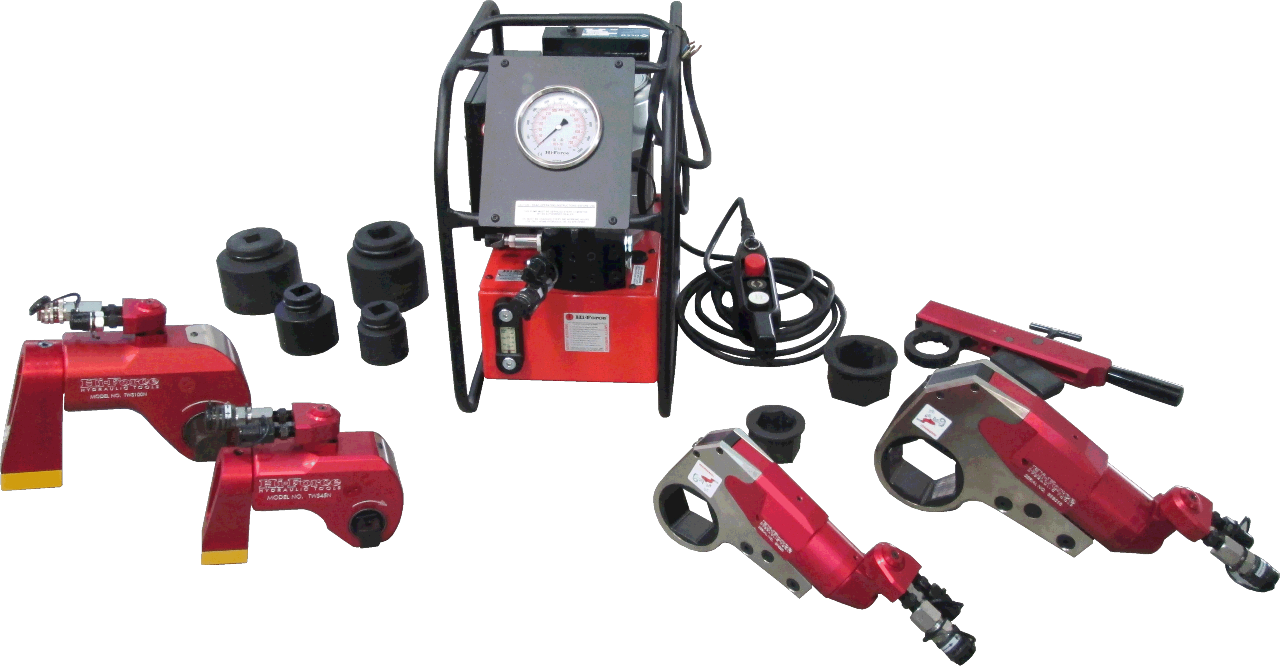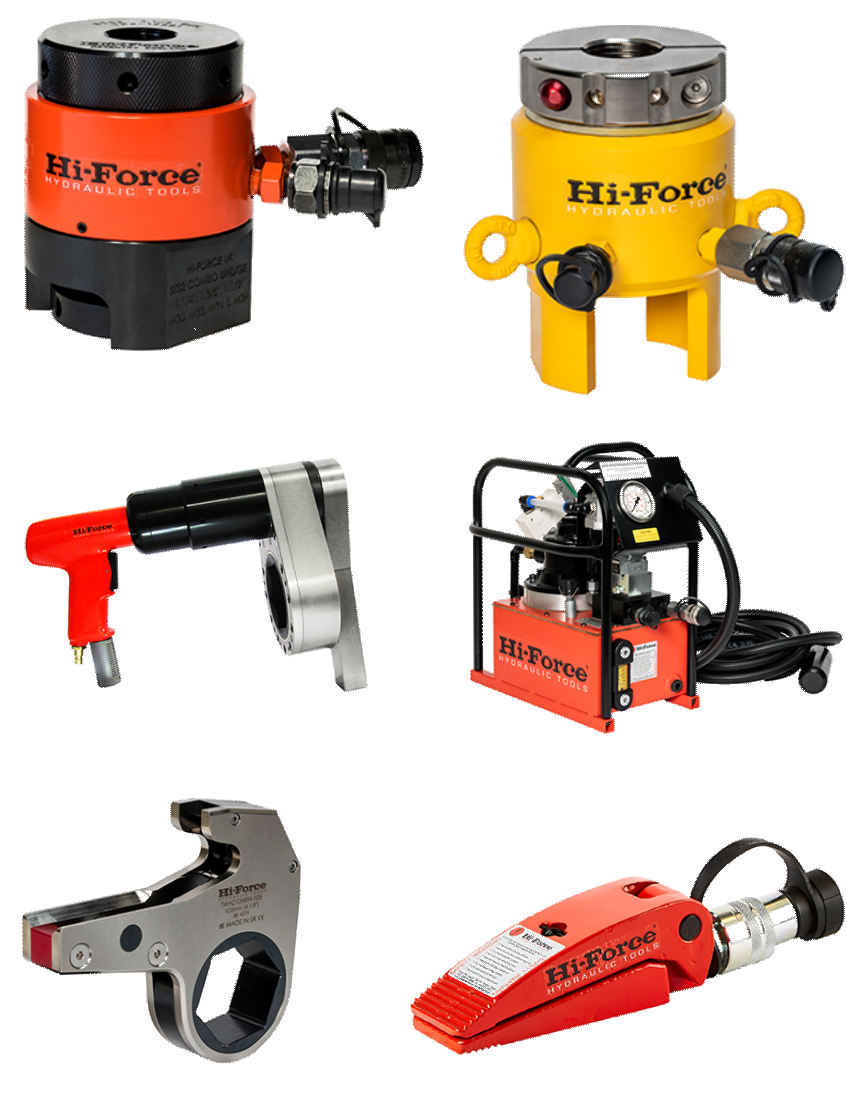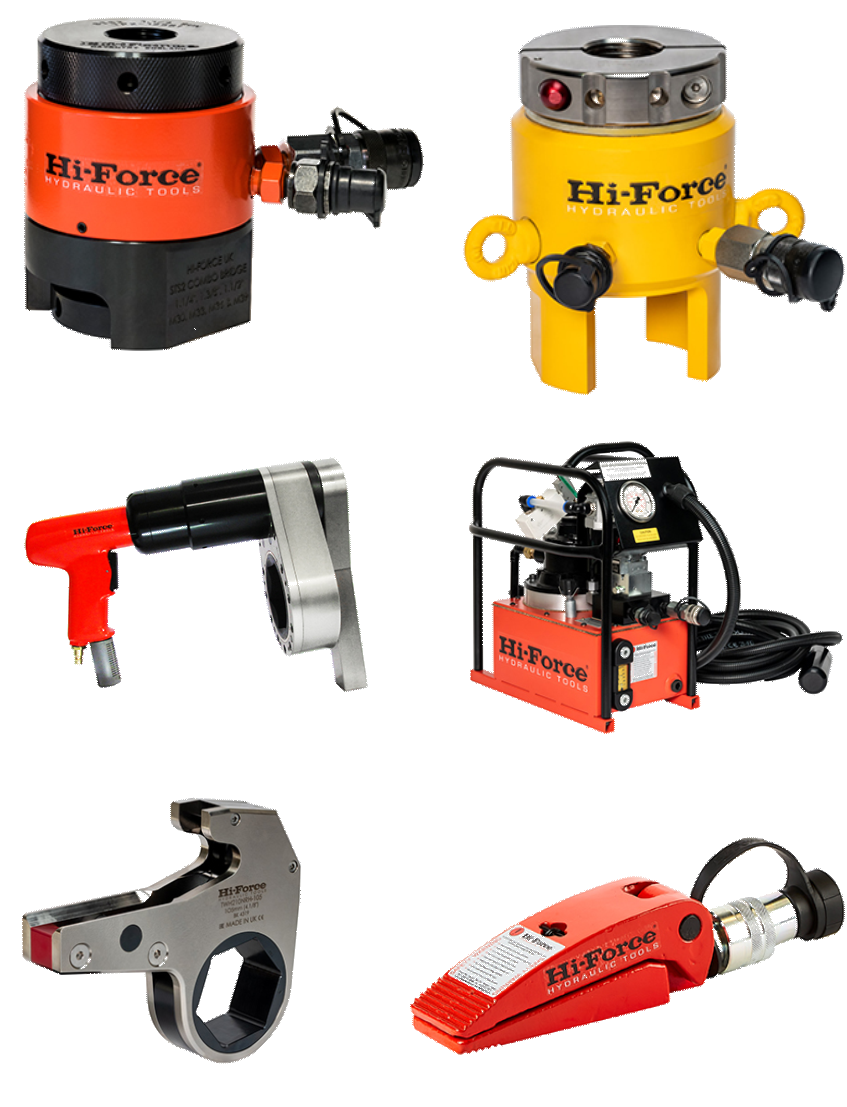 Hydraulic cylinders
Pumps
Jacks
Torque tools
Bolt tensioners
Hydrotest pumps
Puller kits
Crimpers and cutters
Nut splitters
Flange spreaders
Toughlift jacking systems
+ other industry related hydraulic tools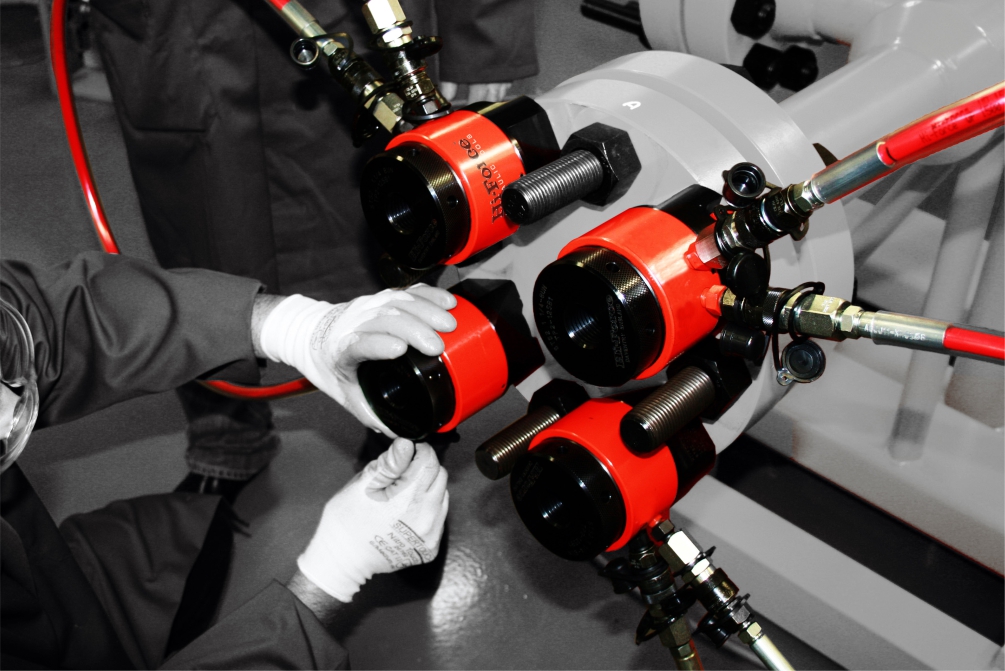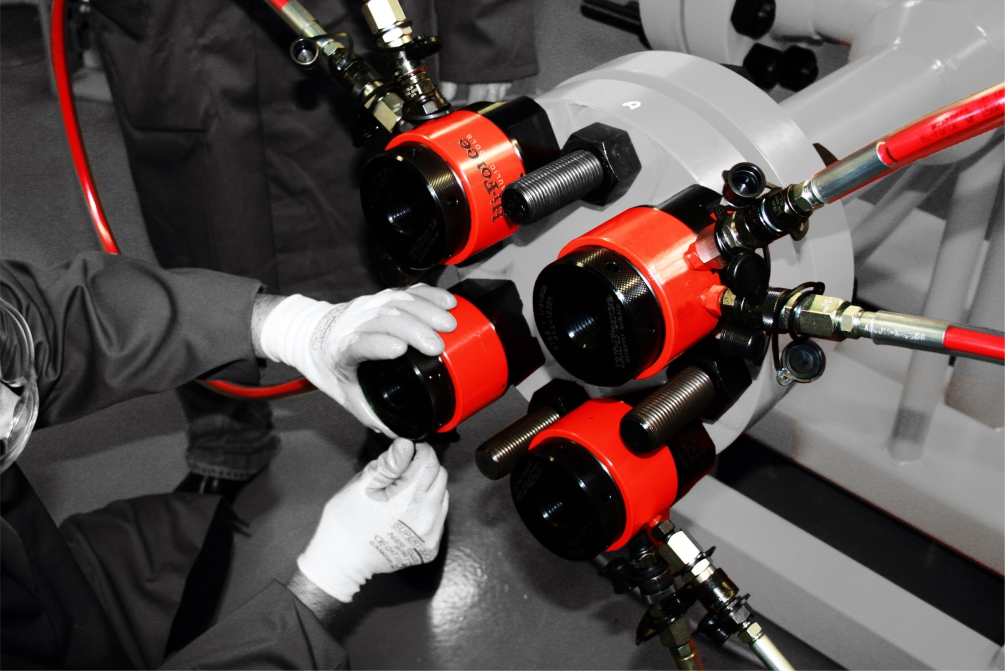 METRIC BOLT TENSIONERS:
Hydraulic stud bolt tensioners are generally accepted as the preferred and most efficient method of accurately tightening bolts, to a predetermined and known bolt load, to ensure an even clamping force on all stud bolts within the joint. This is particularly critical for bolted joints, on pipelines and pressure vessels, in the oil, gas and petrochemical industries, where correctly sealed joints are essential for the safe movement and processing of hydrocarbons, usually under high pressure.