CEAG
With a complete range of products for Hazardous Locations, part of EATON group, CEAG produces in Germany all necessary components. From plugs & receptacles, transformers, luminaries and intrinsically safe barriers and other automation hardware.
EXPLOSION-PROOF EQUIPMENT Ex-e | Ex-t
The "Ex" increased safety equipment (Ex "e") or with protection by enclosure (Ex "t"), manufactured in Brazil exclusively by Polar, are reliable, eficiente and safe because they have 1st line componentes from Eaton-CEAG, maintaning the international quality standard.
They have simple assembly procedures, maintenance and field inspection procedures, ensuring a high level of regulatory and legal compliance of installations in classified areas. They are certified by independent bodies, duly accredited by Inmetro.
Delivery times meet the customer´s needs due to a dedicated stock of componentes, available for the manufacture and assembly of Ex equipment, including for customized projects.
All of this is the result of the CAP (Certified Assembly Partner for Explosion protected products of Eaton) technology transfer program from Germany to Brazil, which includes frequent audits carried out by Eaton.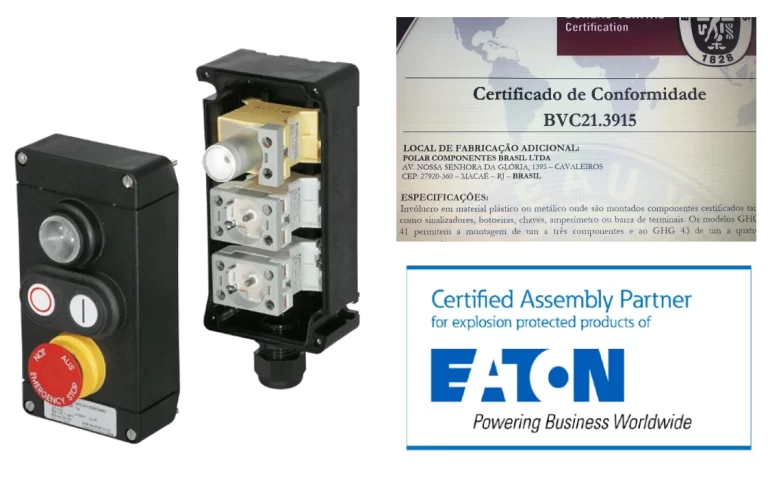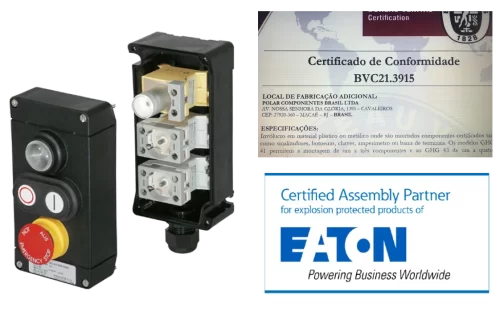 Ex CONTROL PUSHES
The molded plastic Ex pushbuttons are available in two versions: GHG 41 and GHG 43.
The GHG 41 has models with up to 3 mounted componentes (GHG 411 81, GHG 411 82 and GHG 411 83), and also as a measuring instrument (GHG 411 AM 72).
The GHG 43 has the GHG 432 and GHG 434 models, with 2 and 4 mounted components, respectively.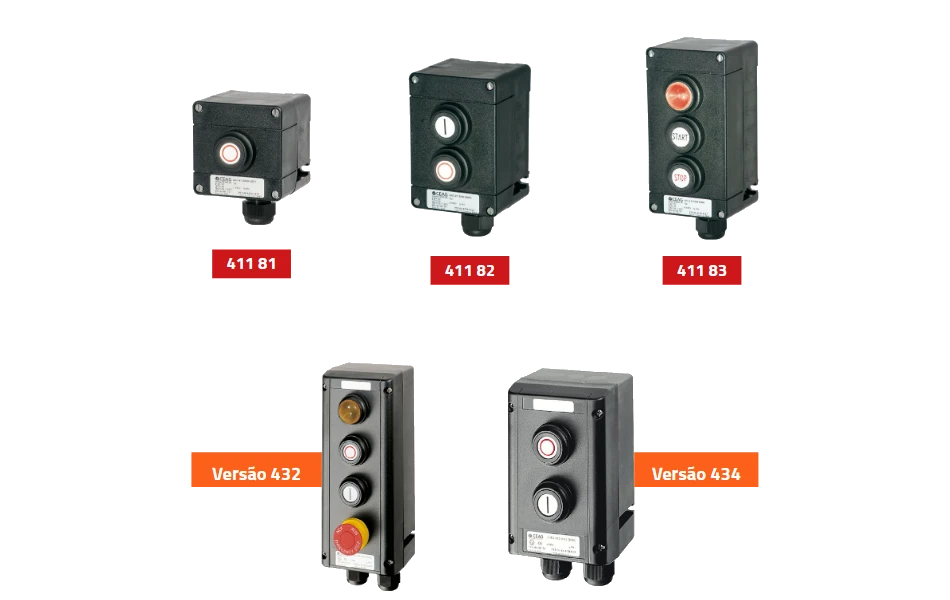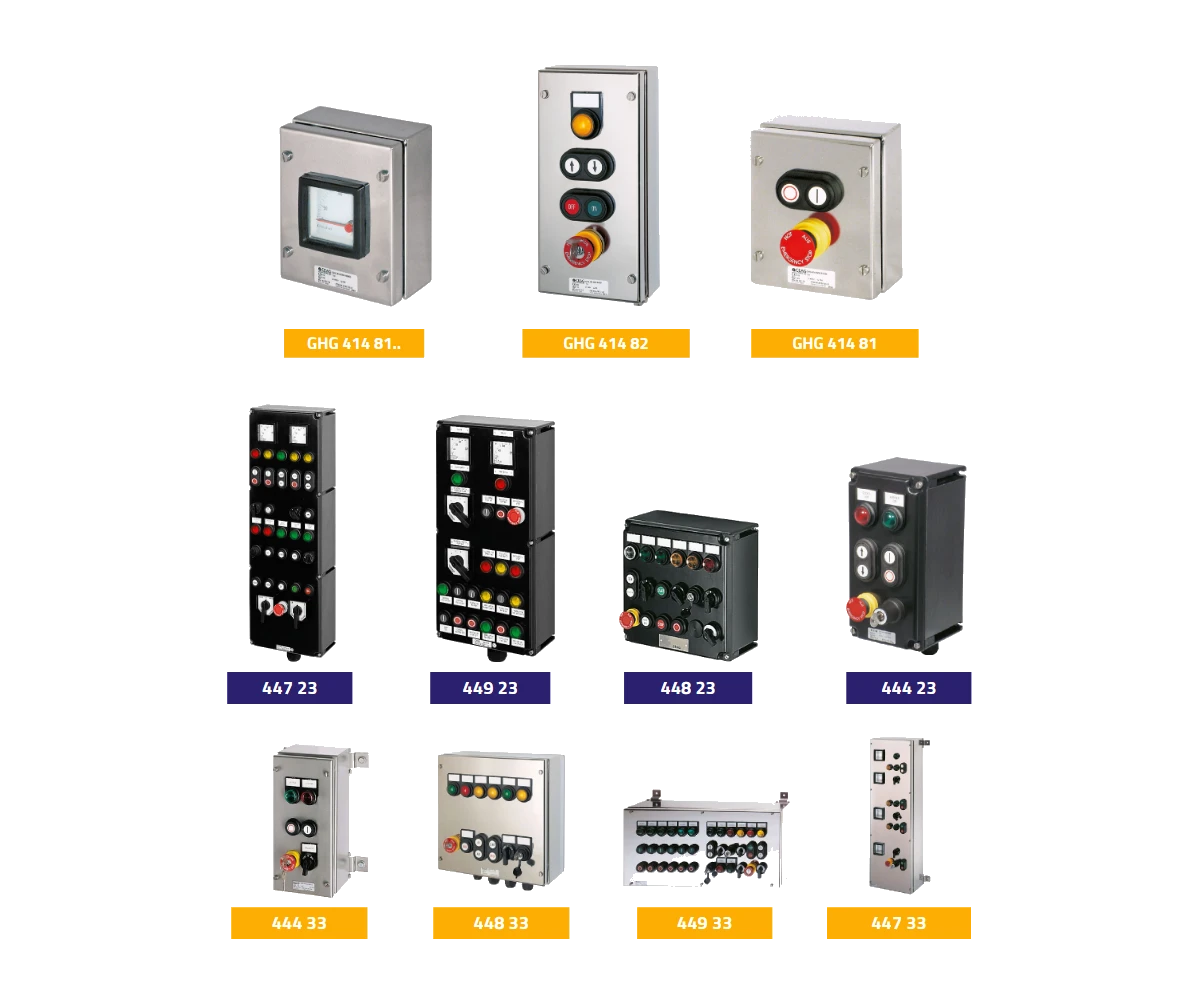 Ex CONTROL UNITS
Stainless steel Ex control units come in GHG 414 81 and GHG 414 82 versions, with 2 and 4 components mounted respectively.
The GHG 44 Ex housing control units have versions 444, 448, 449 and 447, for individual configuration.
GHG 44.33 Enclosed Ex Control Units come in 444, 448, 449 and 447 stainless steel versions for individual configuration.
Ex JUNCTION BOXES
The Ex-e/Ex-i GHG 721 junction boxes have models ranging from 0 to 26 or from 10 to 48 terminal blocks, mounted with screw or spring terminal blocks (optional).
The GHG 731 Ex-e/Ex-i junction boxes have the GHG 731 models, which range from 11 to 16 terminals, and also the GHG 731, which range from 12 to 24 terminals/terminals, both mounted with screw.
The Ex-e/Ex-i GHG 745 02 junction boxes, with up to 82 terminal blocks, are mounted with screw-type or spring-type terminal blocks (optional).
Ex-e junction boxes GHG 745 22 have up to 82 terminals. The GHG 746 23 version has up to 188 terminals, and the GHG 749 24 version has up to 296 terminals.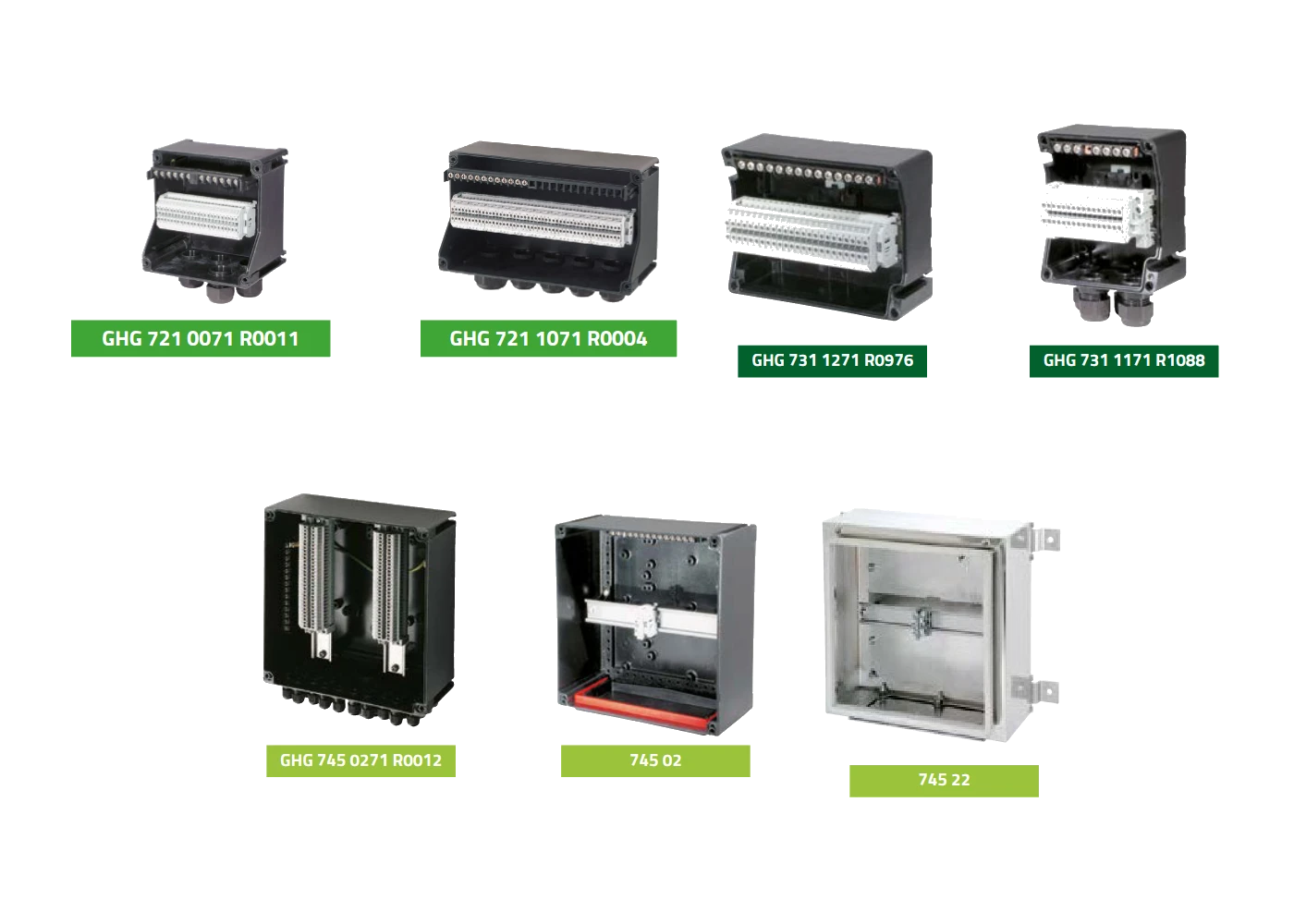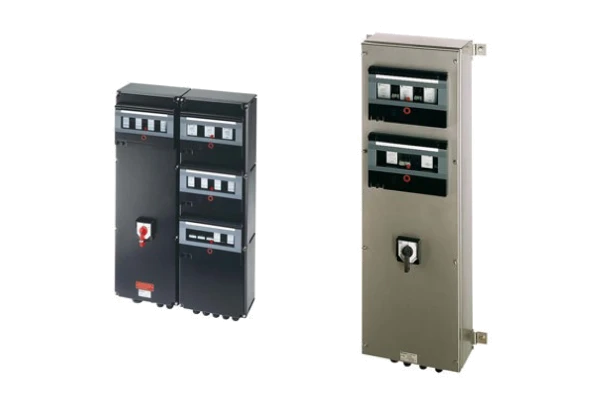 Ex DISTRIBUTION PANELS
The "Ex" distribution panels, with MCB circuit breakers, are used for lighting circuits, heating circuits, socket circuits, power valves, Motor Control Center (MCC), instrumentation and automation, among others. Available in stainless steel.
COUPLING, PLUGS AND OUTLETS
Explosion proof plugs and sockets manufactured by CEAG provide low voltage electrical power distribution in potentially explosive atmospheres including Zone 1 and Zone 2 (flammable gas) and Zone 21 and 22 (flammable dust), which require ATEX certified products or IECEx with high Chemical resistance and robust design.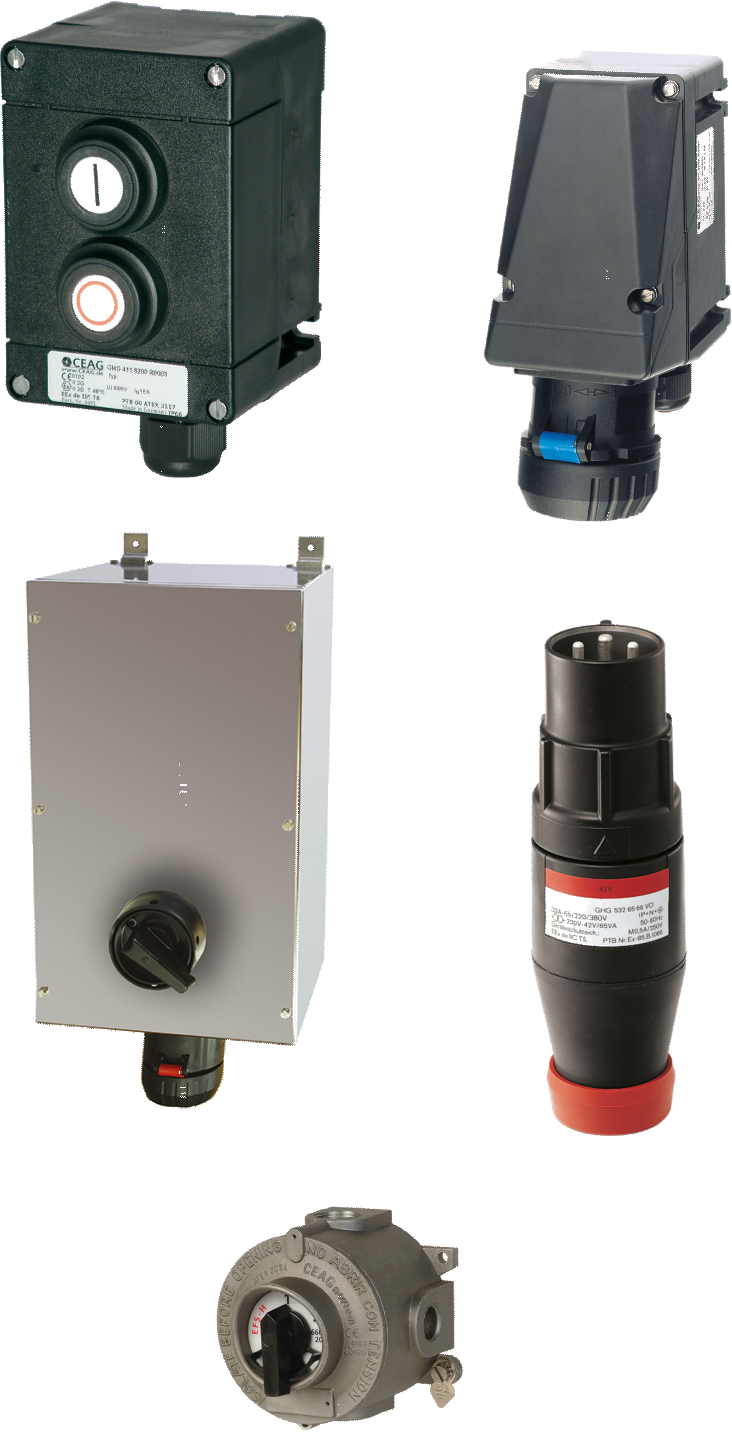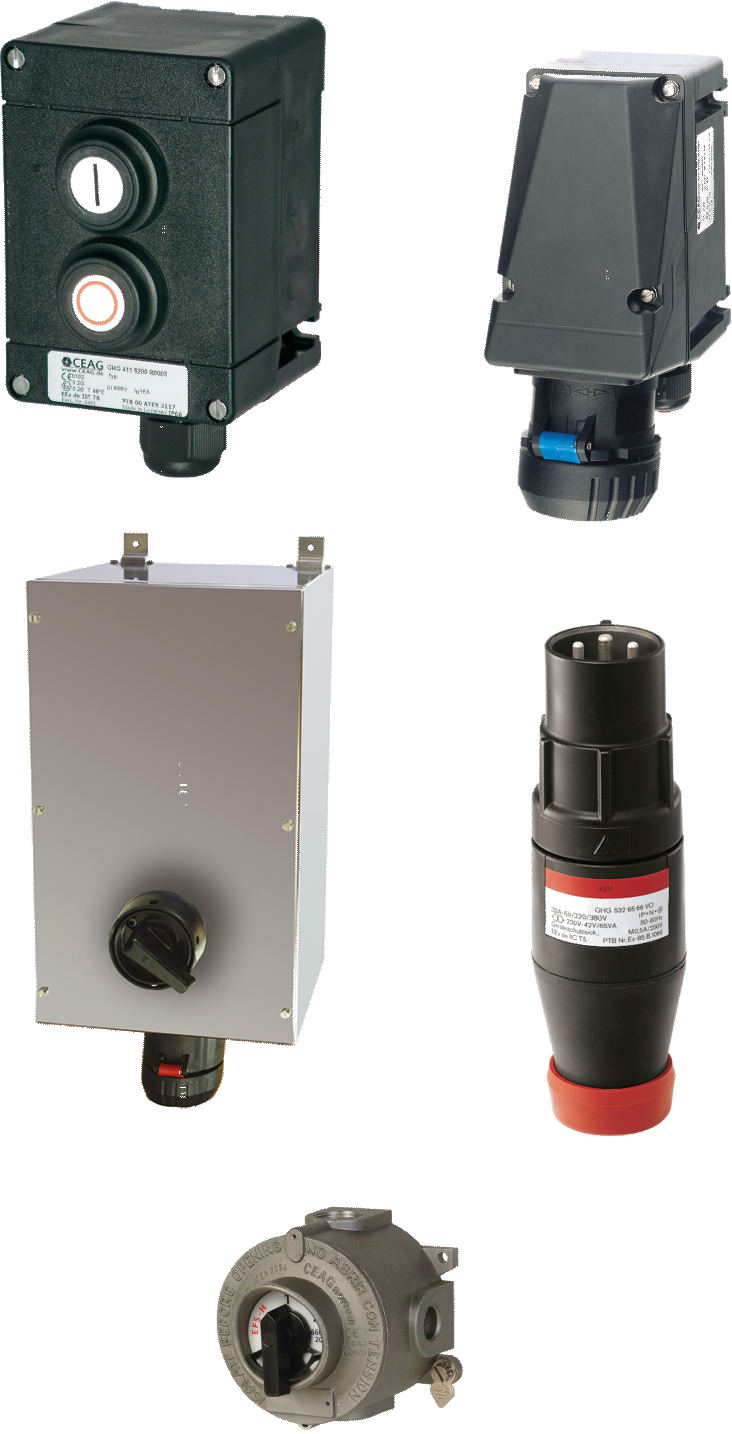 Plugs & Receptacles
MCCs and Control Panels
Buttonholes
Remote I/Os
Intrinsically Safe Barriers
Handlights
Luminaries
Floodlights
Easy maintenance
Trusted
Ecological
Resistant